Improve Transportation Services
Expand services, optimize the riding experience, and increase awareness
May 2, 2018
Columbia County offers public transportation from Hudson to shopping areas, Columbia Greene Community College, and Albany. Over the last few years the County has expanded public transportation and added more stops, but it's still has major room for improvement. On occasion the bus heat fails, and riders have had very cold rides. Two new buses are in production and we are expecting delivery between July and August 2018.
The transportation program is supported through a NY State regrant of the federal 5311 program. While the service costs around $450,000 a year, the County costs after State reimbursement is around $120,000.
Improve Awareness
I recommend that we better publicize the public transportation services. Many people are unaware of what services are offered and how to use them. Given the $450,000 value, we should make stronger efforts to make sure people are able to access it.
Update County Website
I've helped make improvements to the County website. We added routes and shuttle options and cleaned up the language.
Improve Signage
I'm working with the City of Hudson and Columbia County to update, add, and improve bus stop signs. Bus stops should be clearly visible along with route and schedule information.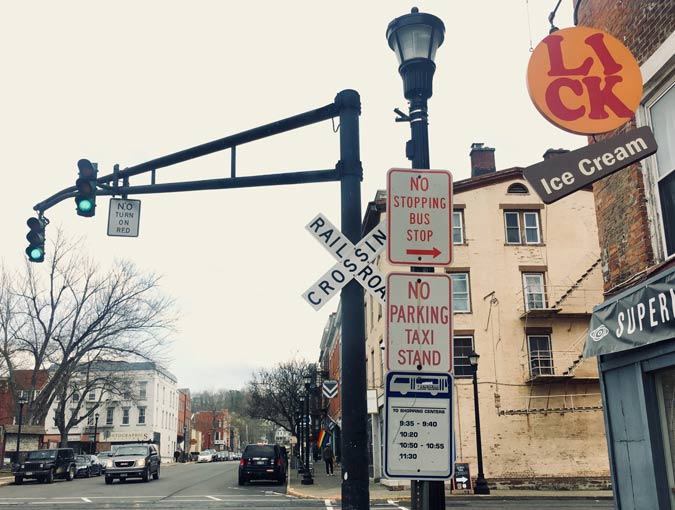 This sign at 7th and Warren has incorrect schedule information. It also lists a bus company that no longer runs this service.
The city should consider a larger sign review—I wonder if that taxi stand is helpful. I never see taxis waiting at that location and the sign adds more clutter to our signscape.
Publicize Transportation Services
In addition to updating the website, I'd like to see other outreach efforts. This could include person to person outreach, fliers, and signage. The Planning Department is working on creating a printed rider's guide.
Coordinate and Plan
We should be thinking bigger and looking for ways to better coordinate all of our transportation services. I suspect that if we look at needs and services across departments and agencies that we will find opportunities to make improvements. Consider the Department of Social Services, Meals on Wheels, Health Consortium, the bus proposal in the Downtown Revitalization Initiative, and the County's already established bus routes.
Contract
The County is currently in a contract with Johnston Transportation. The County pays three to four dollars per mile depending on whether the bus is owned by the County or by Johnston.
On February 14, 2018 I voted to take the option of extending the 2016 contract for an additional two years. The contract was initially signed in April 2016. It originated with a request for proposals and Johnston was the winning bidder.
At the February County Government committee, it was suggested that the County put out a new request for proposals for a contract that will cover April 2020 - April 2024.
What do you think about County public transportation? Let me know how it should be improved.