Local Government Campus
Columbia County and the City of Hudson should explore a shared purchase of the John L. Edwards building.
September 8, 2018
The Hudson school district is selling the John L. Edwards (JLE) building at 4th and State. The 89,500 square foot building could be the site of a combined County and City government campus. The County and City could sell current buildings and move departments to the central location.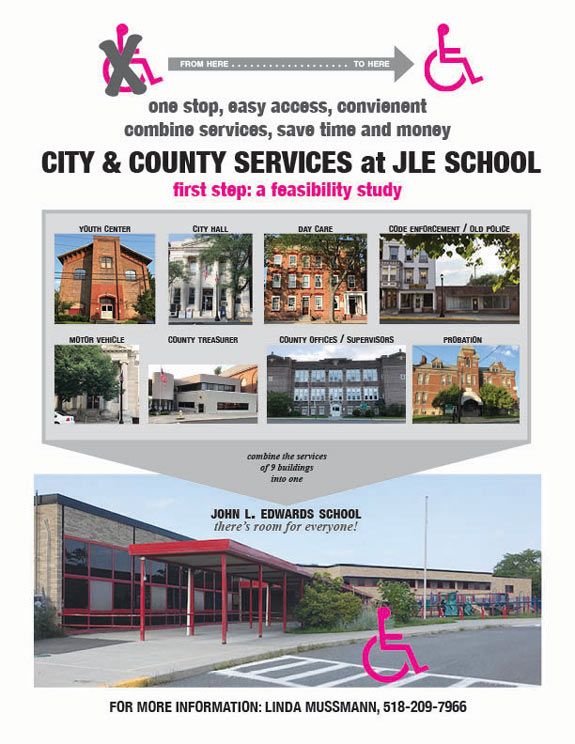 Potential Advantages:
Increase handicap accessibility
 - some of the current government buildings are not accessible.

Improve facilities
 - the new building may be a better home for our departments. For example, the JLE gym would likely serve the Hudson Youth Department better than the gym at the Youth Center. 


Improve cross-departmental collaboration by locating more departments near each other

Cut building maintenance and security costs by managing fewer buildings

Save money through state-funded incentives to share services between government entities.
Project Assessment
There are a lot of unknowns about how the specific advantages and disadvantages of the project will weigh out. We should explore the possibilities, gather more information, and assess.
Project Status
The County has inventoried the needed square footage for each County department.
The City of Hudson passed a resolution expressing interest in a joint feasibility study.
The County has reached out to a firm familiar with JLE about doing a feasibility study.
What do you think about the issue and what do you think makes a good government building? Let me know.