November 2022 Election
Vote to Protect Our Freedoms
November 2, 2022
The stakes are high. The same faction that conspired to attack our country on January 6 is taking away a woman's right to make her own healthcare decisions, denying election results, and threatening to gut essential programs like Social Security and Medicare.
In this urgent time, I'm voting for Josh Riley for Congress, Michelle Hinchey for State Senate, and other leaders on the Working Families Party and Democratic lines. I'm also voting yes for Clean Water, Clean Air (State Proposal 1) and Library Funding (Proposal 2). I hope you'll join me to protect our freedoms and create local solutions.
See below for sample ballots and hours for early voting. Please get in touch if you have any questions.
Ballot Front
Vote Row A Democratic or Row D Working Families Party
On the front of the ballot, you can vote for up to 14 candidates. A few highlights include:
For Supreme Court, vote for all three Democratic candidates - Cochrane, Graff, and Galligan
I've had great conversations with these candidates, and they will work to improve our community and create the local solutions we need.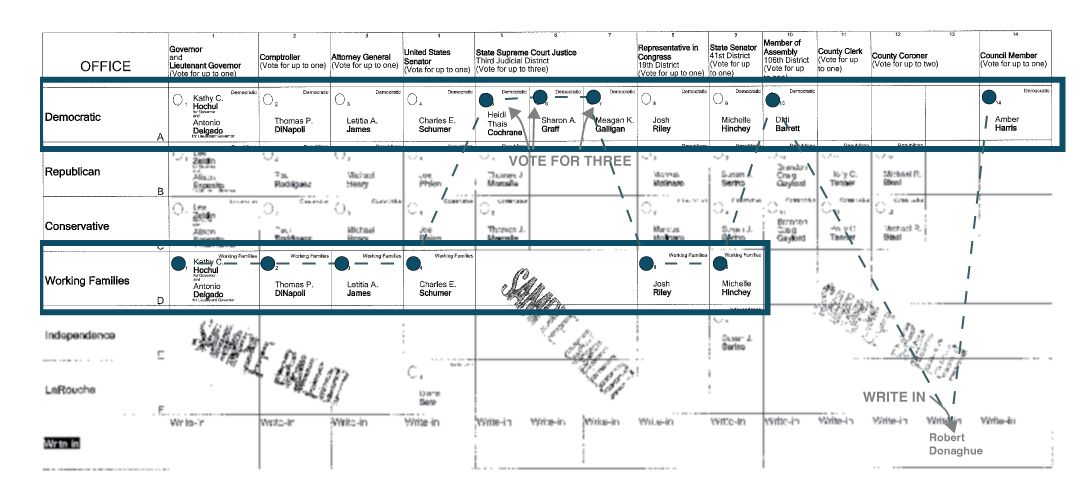 Ballot Back, Vote Yes
On the back of the ballot, there are three propositions.
Vote yes on the Clean Water, Clean Air (State Proposal 1). Help protect clean drinking water, support 100,000 local jobs, and conserve our natural areas.
Vote yes for Library Funding (Proposal 2) and support this important community resource.

Early Voting
Vote Early at 401 State Street, Hudson or
Martin H. Glynn Municipal Building, 3211 Church Street, Valatie
Wednesday, November 2: 12pm - 8pm
Thursday, November 3: 9am – 5pm
Friday, November 4: 9am – 5pm
Saturday, November 5: 9am – 5pm
Sunday, November 6: 9am – 5pm
Election Day
Tuesday, November 8, 6am - 9 pm
Hudson Wards 1-3: St Mary's Academy, 301 Allen Street
Hudson Ward 4: Board of Elections, 401 State Street
Hudson Ward 5: Hudson Central Fire Station, 77 N 7th St
Return Your Absentee Ballot
If you requested an absentee ballot, return your ballot.
Bring to the Columbia County Board of Elections (401 State Street, Hudson) by November 8 before 9pm
Mail with a legible postmark by November 8 (must be received by the BOE by November 15)
Remember: Voters who receive an absentee ballot are no longer allowed to vote on the voting machines on Election Day or at Early Voting.
Check Voting Status
voterlookup.elections.ny.gov or contact the Board of Elections.
Columbia County Board of Elections
Contact the Board with voting questions and for forms. Forms can be mailed or emailed by request.
401 State St
Hudson, NY 12534
(518) 828-3115
elections@columbiacountyny.com
columbiacountyny.com/elections
Get a Reminder
Learn more about my work to support safe and fair voting.