Election Day 2020
Apply for an absentee ballot, learn about early voting, and other election resources
October 25, 2020
I encourage you to vote on the Working Families or Democratic Line and vote for Joe Biden and Kamala Harris, Antonio Delgado, Patrick Nelson, and Didi Barrett.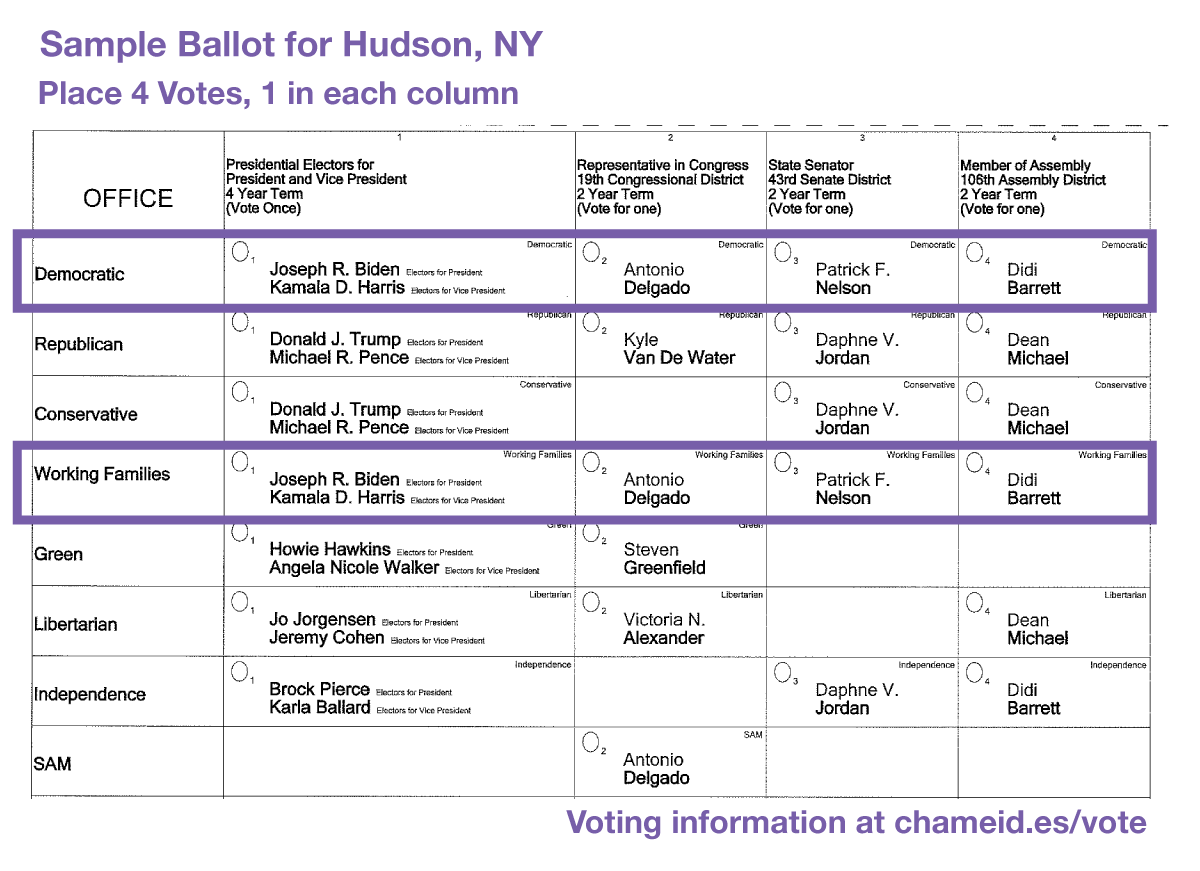 Early Voting
Vote Early at 401 State Street
Saturday, October 24: 9:00 AM - 2:00 PM
Sunday, October 25: 9:00 AM - 2:00 PM
Monday, October 26: noon - 8:00 PM
Tuesday, October 27: 9:00 AM - 5:00 PM
Wednesday, October 28: Noon - 8:00 PM
Thursday, October 29: 9:00 AM - 5:00 PM
Friday, October 30: 9:00 AM - 5:00 PM
Saturday, October 31: 9:00 AM - 2:00 PM
Sunday, November 1: 9:00 AM - 2:00 PM
Election Day
November 3, 6 AM - 9 PM
Wards 1-3: St Mary's Academy, 301 Allen Street
Ward 4: Board of Elections, 401 State Street
Ward 5: Hudson Central Fire Station, 77 N 7th St
Hudson's 3rd Ward Votes at St. Mary's Academy
301 Allen Street
Corner of Third and Allen
Directions
Get an Absentee Ballot
Due to COVID, every eligible voter may vote by absentee ballot. To vote absentee, you must first apply for an absentee ballot. October 26 is the Deadline for Board of Elections to receive absentee ballot application by mail. November 2 is the last day to apply in person for an absentee ballot.
Register to Vote and Update Your Registration
Register to vote with the voter registration form.
Moved
If you have moved, update your registration with a new registration form.
Political Party and Primary Election
Registering for a political party allows you to vote in that party's primary election. Update your party affiliation with a new registration form.
Check Voting Status
voterlookup.elections.ny.gov or contact the Board of Elections.
Become a Poll Worker
The Board of Elections is looking for qualified voters to serve as Poll Inspectors. It's a great way to earn extra money while helping the community to vote.
Columbia County Board of Elections
Contact the Board with voting questions and for forms. Forms can be mailed or emailed by request.
401 State St
Hudson, NY 12534
(518) 828-3115
elections@columbiacountyny.com
columbiacountyny.com/elections
Get a Reminder
Learn more about my work to support safe and fair voting.