September 2022 Election
Vote Pat Ryan for Congress
August 7, 2022
Pat Ryan has a proven track record. As Ulster County Executive, Pat has leveled the playing field and provided working families and small businesses the tools they need. He will stand up for our freedoms — the freedom for a woman to decide whether or not to have an abortion and the freedom to have safe and secure elections. In Congress, he will stand up to the MAGA Republicans trying to divide our country.
As a Columbia County Supervisor, I've learned from Ryan and his team about how to create and implement successful programs. I'm excited for him to represent our community in Congress. I encourage you to vote him.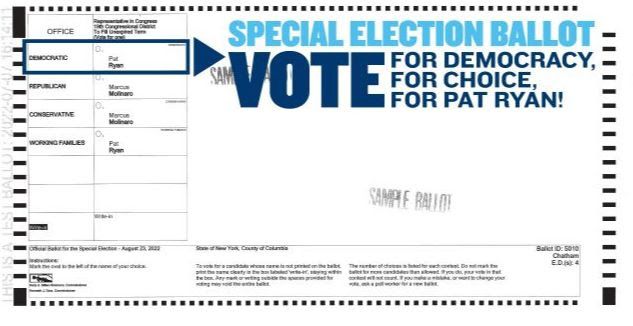 Ballot #2: Congressional Primary
There are two ballots in the August election. On ballot #1, Pat Ryan is running for Congress in a special election to finish the term of Antonio Delgado. On ballot #2, registered Democratic voters can vote for Josh Riley or Jamie Cheney in the Democratic Primary. The winner of the primary will be on the ballot in November.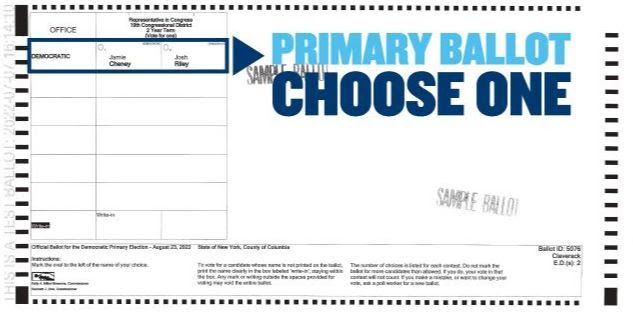 Early Voting
Vote Early at 401 State Street, Hudson or
Martin H. Glynn Municipal Building, 3211 Church Street, Valatie
Saturday, August 13, 9am – 5pm
Sunday, August 14, 9am – 5pm
Monday, August 15, Noon – 8pm
Tuesday, August 16, 9am – 5pm
Wednesday, August 17, Noon – 8pm
Thursday, August 18, 9am – 5pm
Friday, August 19, 9am – 5pm
Saturday, August 20, 9am – 5pm
Sunday, August 21, 9am – 5pm
Election Day
Tuesday, August 23, 6am - 9 pm
Hudson Wards 1-3: St Mary's Academy, 301 Allen Street
Hudson Ward 4: Board of Elections, 401 State Street
Hudson Ward 5: Hudson Central Fire Station, 77 N 7th St
Get an Absentee Ballot
If you are not able to vote in person for the August 23 elections, request your absentee ballot at absenteeballot.elections.ny.gov.
Important Deadlines:
August 8 - last day for BOE to receive absentee ballot APPLICATION via mail, online portal, email, or fax
August 22 - last day to APPLY for absentee ballot in person at BOE (401 State Street, Hudson)
August 23 - last day to postmark absentee BALLOT
August 23 - last day to deliver absentee BALLOT in person to BOE (401 State Street, Hudson)
Remember: Voters who receive an absentee ballot are no longer allowed to vote on the voting machines on Election Day or at Early Voting.
Register to Vote and Update Your Registration
Register to vote with the voter registration form.
Moved
If you have moved, update your registration with a new registration form.
Political Party and Primary Election
Registering for a political party allows you to vote in that party's primary election. Update your party affiliation with a new registration form.
Check Voting Status
voterlookup.elections.ny.gov or contact the Board of Elections.
Become a Poll Worker
The Board of Elections is looking for qualified voters to serve as Poll Inspectors. It's a great way to earn extra money while helping the community to vote.
Columbia County Board of Elections
Contact the Board with voting questions and for forms. Forms can be mailed or emailed by request.
401 State St
Hudson, NY 12534
(518) 828-3115
elections@columbiacountyny.com
columbiacountyny.com/elections
Get a Reminder
Learn more about my work to support safe and fair voting.