Improve Transportation Services
Expand services, optimize the riding experience, and increase awareness
October 1, 2022
Columbia County Public Transportation has improved since I took office in January 2018, but we still have a long way to go.
Expanded Routes
In Summer 2018, we launched a Summer Youth Bus, making it easier for young people to participate in youth programs. This improvement was followed by a new new after-school bus in the Fall of 2018.
I'm currently working on a proposal to expand the days and hours of the Shopping Shuttle Service. In March 2020 we planned extended hours. However, the extension was suspended due to Covid. In 2022, I secured approval from the New York State Department of Transportation to extend hours, and the County issued an invitation for bids from providers.
We should continue to explore expanding times on existing routes and adding new ones. According to a University of Utah Study, increasing frequency generally increases ridership more than adding new routes.
Improved Bus Fleet
When I first came into office, the county didn't have enough quality, functional vehicles. For example, there were extremely cold days when the bus had no heat. In December 2018, we got two new buses. We added two additional buses in 2019. In 2022, I helped secure funding from the New York state Department of Transportation, and we are under contract for a new vehicle.
Improve Awareness
Many people are unaware of the services are offered and how to use them. Given that we provide a service, we should make more substantial efforts to ensure people can access it.
Create Accurate Route Maps and Schedules
I discovered that many of the posted schedules were inaccurate and confusing. Updated versions of the Shopping Shuttle and Albany Route—with map and schedule— have been published and distributed. We still need to update the schedules for the additional routes.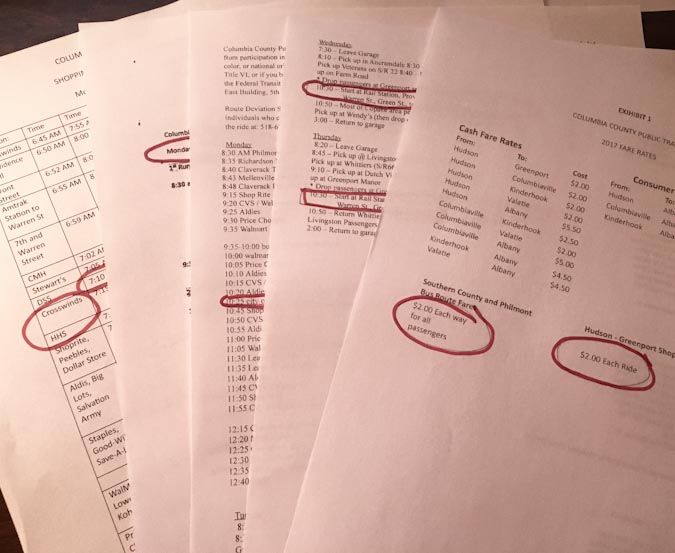 Update County Website
I've helped make improvements to and supported the launch of a new County website. We added routes and shuttle options and cleaned up the language.
Improve Signage
We have added four bus stop signs in the city of Hudson and three in Greenport. Bus stop signs are an important tool to attract riders and build the brand identity of a system. Bus stops should be visible along with route and schedule information. The previous signs had incorrect schedule information and listed a bus company that no longer runs the service.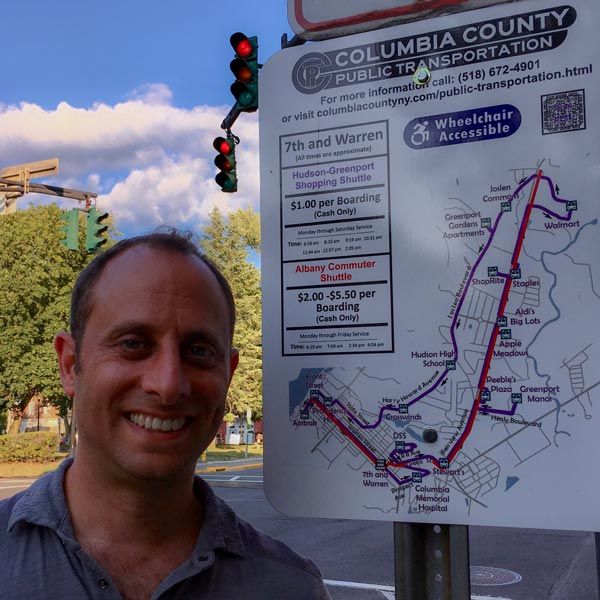 Create Alert System
Riders can now get updates on snow emergencies and other changes in service by signing up for Columbia County's NY Alert.
Publicize Transportation Services
In addition to updating signs, flyers, and the website, I'd like to see other outreach efforts.
Transportation Key to Workforce Development
Parents face unique challenges accessing workforce programs and employment. Many have difficulty managing complex schedules or need supportive services such as child care to participate in training or work. They also need supports like transportation.
Family-Centered Approaches to Workforce Program Services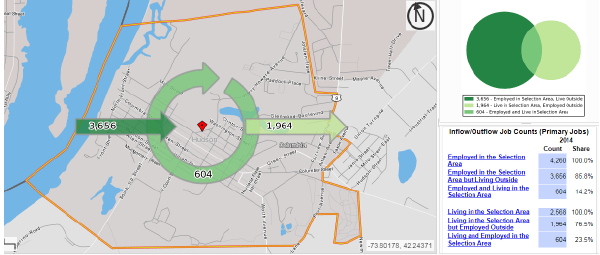 According to the 2017 Housing Needs Assessment of Columbia County, most jobs in Hudson are filled by people who live outside of Hudson and most employed people who live in Hudson are employed outside of Hudson. The 2017 Columbia County Public Transportation Plan notes that while "major employment opportunities are spread throughout the county…The County of Columbia Public Transit System operational times are currently not condusent (sic) with many employment transportation needs…" The Columbia Greene Workforce 2017-2020 Local Plan notes "The lack of public transportation in our rural area is always an issue that limits not only access to the Career Center, but also access to other workforce preparation services, and job opportunities for many of our most in-need residents."
The Housing Needs Assessment concludes, "Families who once rented homes and apartments near the urban centers of the county are thus forced to move further out into the country, where they face transportation issues back to major centers of employment and to schools. This migration out of Hudson is driving the numbers of homeless persons up in other areas of the county." Public transportation needs to fill this important gap and help people access jobs as well as services.
Coordinate and Plan
People living below the poverty level are less likely to own or have access to a personal vehicle to get to work. Compared to other commuters, people below the poverty level are more likely to use lower-cost options such as carpooling, taking public transportation, or using other transportation modes, but such options are less available in rural areas. Some states and localities around the nation have instituted methods to optimize federal funding programs into coordinated and unified systems to serve their citizens, yet creating and administering such coordination is an arduous task. As a result, many rural transit services remain expensive to subsidize and unable to fill the transportation needs of rural businesses and citizens.
Task Force on Agriculture and Rural Prosperity Report
I launched the Columbia County Transportation Plan and am coordinating the demographic research, analysis of current services, and assessment of gaps. This process will be followed by a public input process and strategic plan.
Improve Service
Successful systems have the following qualities:
service goes where you to go
runs frequently
reasonably fast
reliable
convenient to walk or bicycle to stop
comfortable and safe
affordable
Columbia County offers public transportation from Hudson to shopping areas, Columbia Greene Community College, and Albany. In addition, Columbia County funds initiatives for senior, veteran, and medical transportation.
Real-Time Transit Data
A future where integrated real-time data from all transportation options enables a true mobility system that rivals private car use on convenience.
I'd like to create a system where riders can see real-time information on where the bus is and how long until it reaches their stop. This has been proven to improve ridership and cut down on travel times.
Fund Public Transportation
More federal and state funds should be allocated for public transportation. 75% of federal transportation funding goes to highways, according to Better Buses, Better Cities.
What do you think about County public transportation? Let me know how it should be improved.