Public Transportation Live Tracking
Public transportation riders can now view live updates of bus location and arrival times
June 6, 2023
Riders on the afternoon hours of the popular Shopping Shuttle, which offers $1 rides in Hudson and Greenport, can now get live updates on the bus location. The service is available during the extended hours operated by Propark Mobility, which runs from 2:55 PM to 8:00 PM Monday to Saturday and Sundays from 11:00 AM to 3:00 PM.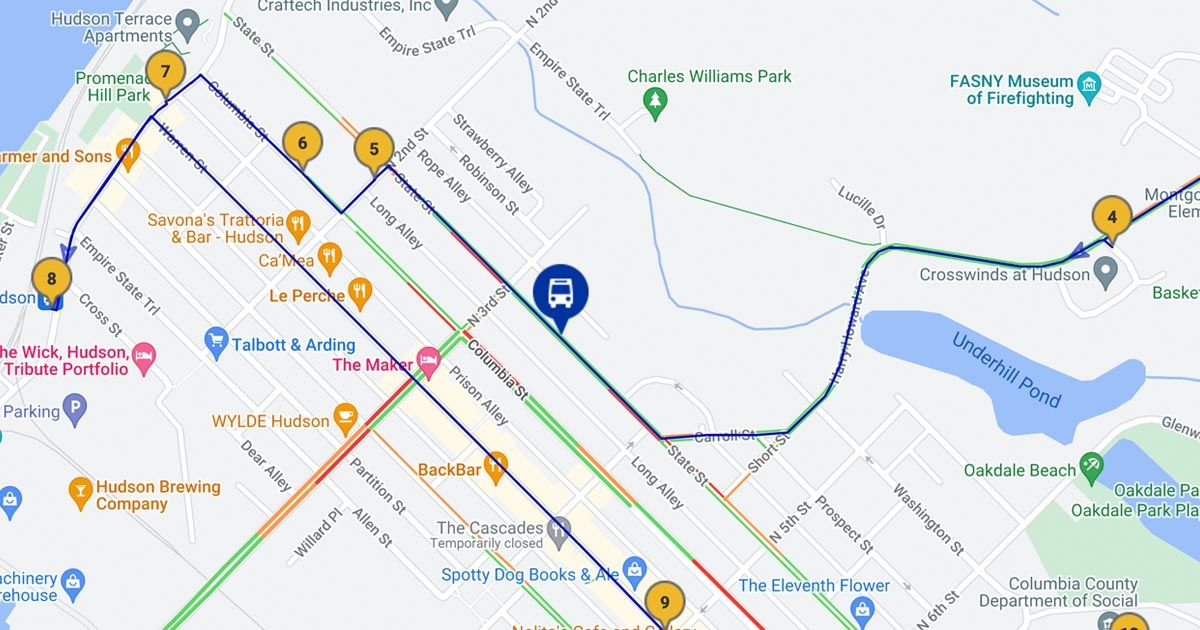 Viewers can use a web browser or the BusWhere mobile app.
Riders using the webpage or mobile app can get live updates on the bus location, as well as estimates for when the bus will arrive at a future bus stop. This feature supplements the bus schedule and offers riders additional reassurance of when the bus will arrive at a location.
"We are pleased to offer riders a better experience, and we hope it will make riding Propark's Shopping Shuttle more enjoyable," says Emmanuel Martinez of Propark.
The live tracking service supports the goals of the 2017 Columbia County Public Transportation Plan, which identified the need to emphasize the "reliability of riding a bus to the general public."
"Public transportation contributes to economic development, public health, and quality of life," says Public Transportation Committee Chair and Supervisor Michael Chameides. "I'm grateful to offer this new feature to riders who utilize this vital service."
In March, Columbia County extended hours on the Shopping Shuttle, which led to more residents using the service. The funding for the service is supported by Federal and State grant funds, as well as generous support from The Spark of Hudson in partnership with The Eutopia Foundation.
"Rising ridership numbers of the Shopping Shuttle underscore the importance of public transportation in our community. Great to see the shuttle can now be tracked in real time, which should provide riders with an even more convenient and user-centric transportation solution," says Susan Danziger, Founder of The Spark of Hudson and the Eutopia Foundation.
The live bus tracking is only available during the Propark extended hours: 2:55 PM to 8:00 PM Monday to Saturday and Sundays from 11:00 AM to 3:00 PM. The 6:45 AM - 2:55 PM Shopping Shuttle service utilizes different vehicles and does not have live tracking. The Shopping Shuttle is one of several Columbia Public Transportation routes. Dial-a-ride services are also available for seniors, veterans, and people needing medical transportation.
Learn more about my work to improve public transportation.