Give Incentives for Data Collection
Encourage users to provide an address with a follow up form
April 16, 2016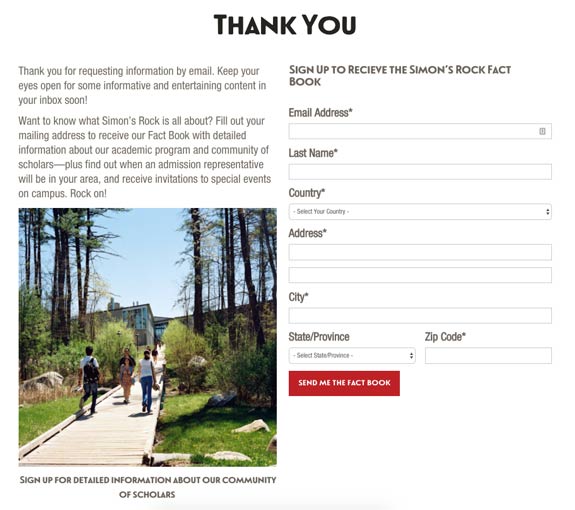 At Bard College at Simon's Rock, it's easier to recruit students if you have their address. But, we found that requiring an address reduces conversions. Even an optional address reduces conversions. In an effort to get more addresses, but not reduce the number of lead generation conversions, we gave users an address-only form immediately after they filled out a lead generation form.
User Experience
To ensure the best possible user experience, we screen out users who we already had an address on file. For users without an address, they get a special confirmation page. The page thanks them for providing their information and also offers them a mailed incentive if they provide their address now. (We only do this for forms that don't already promise an incentive. Because it would be too confusing to provide the incentive and then simultaneously offer another one.)
Success
After our testing period, we found that the follow-up incentive form significantly increased address submissions.
Learn more about using data to assess and inform tactics view my Analytics Remarks.