Policing, Safety, and Justice
Reform policing and fund programs
June 2, 2022
We all want our families to be whole and our communities to be vibrant.
But too often, the people entrusted to serve and protect our communities instead target and detain Black people. The deaths of George Floyd, Rayshard Brooks, and Breonna Taylor, among too many others serve as a national call to action that we need to do more. Some politicians will seek to divide us, but now is the time to unite around what really keeps us safe. Safety is living in communities where people of every color and background have fair wages, great schools, and affordable healthcare, where we address problems with proven solutions like social supports instead of ever more militarized police. Together, we will make this a place where our rights are respected and where every one of us can live full and healthy lives, no exceptions.
Racism is a Local Problem
We can't ignore the facts or the experiences of our residents.
Racial Disparity
In Columbia County, Black people are almost nine times as likely to be arrested for a felony. (See 2018 New York State Division of Criminal Justice Services report.)
Columbia County ranked in the bottom 31% for having the highest racial disparities in drug arrests. Before marijuana was decriminalized in New York State, Columbia County had one of the highest possession arrest rates. Indeed, the county opposed statewide marijuana legalization. And until 2020, the county actively partnered with the DEA on an attempted campaign to "eradicate marijuana."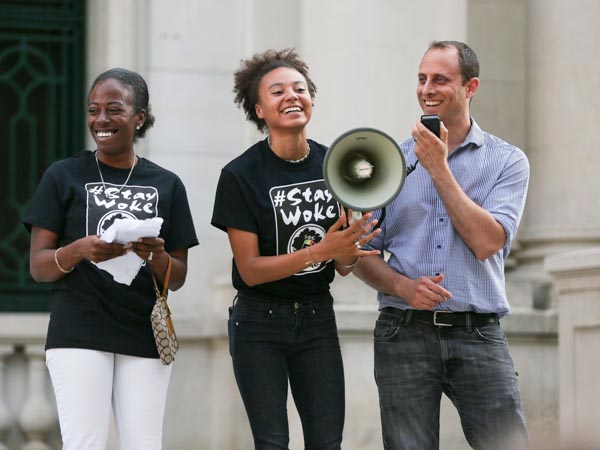 Bail Reform
In 2020, New York State instituted an important change: bail reform. People who have not been convicted of a crime can't be held in jail based on how much money they have. But, the Board of Supervisors passed a resolution against bail reform.
The anti-bail reform resolution stated, "no group is more vulnerable than the victims of crime, and a just society demands that crime victims should be recognized as key participants within the criminal justice system and be treated with dignity, fairness, and respect." The emphasis on victims is misleading since punishing people based on their wealth doesn't support victims of crime. If we are truly committed to protecting victims, suspected perpetrators with access to wealth and power will be treated the same as those without power.
Immigrant Rights
The county took critical action in 2021 to improve public safety by ending County cooperation with deportations. I supported this effort as well as other immigrant rights issues.
Economics
Our problems are bigger than policing. There are more residents—white and black— living in poverty. We have seen an increase in the overall income of white residents however the overall poverty rates are increasing. Black residents have half the income of white residents. We need to do better to create economic opportunities, for everyone.
By moving our money away from policing to fund our lives, we can ensure everyone is treated fairly and that life and liberty is for all—no exceptions. I've actively supported funding for mental health services, affordable housing, education, and public transportation.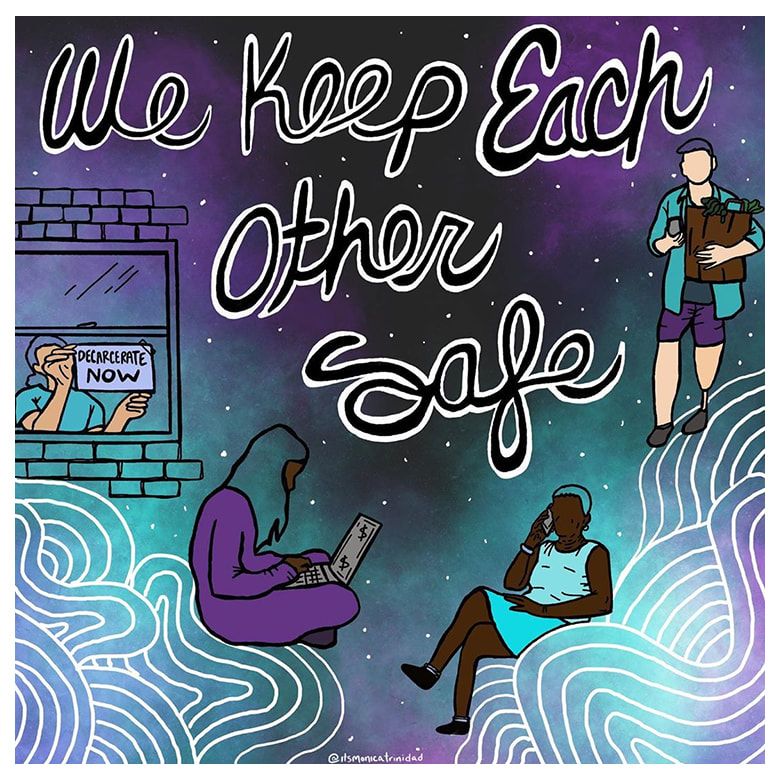 Solutions
Here are some steps for Columbia County to improve public safety and racial justice.
Mental Health and Substance Abuse
Increase resources for mental health and human service staff to partner with the police by facilitating drug treatment, assisting with domestic disturbances, and supporting the police in their front-line role in the community.
Philmont Police Reform Workgroup, 11/25/2020
Mental health issues are a medical problem, and incarceration does not address underlying medical issues. People with serious mental health issues are overrepresented in the justice system, and incarceration is demonstrated to exacerbate mental health issues.
In 2021, Columbia County created a Sheriff's Office Mental Health Referral Program. The new program makes it possible for officers to connect people to needed services. People needing mental health and addiction services can continue to seek services by directly contacting the service agencies.
In 2022, the county funded a mental health first responder program. These funds address an important need, but only partially cover the needed hours and capacity.
While these programs increase access to mental and substance abuse services, it does not address the long waiting list for mental health services. It also does not ensure that a mental health or substance abuse specialist will be on-site during an emergency call. I've been a consistent advocate for adequate staffing at the County's Mental Health Clinic.
An important step to improve services is for the county to continue the work of the Transitions for Treatment Task Force and create a joint task force to further the Sequential Intercept Model (SIM) mapping report. At the heart of the report's recommendations is the creation of a Wellness Hub, which will allow for the location of a 20-bed detox center and the development, over time, of needed services such as supportive housing.
Another important recommendation is the reduction of area motels as emergency housing to be replaced by supportive housing, including a 30-40 bed homeless shelter. Finally, the report recommends the creation of a county mental health court and the eventual reuse of portions of the Columbia County Jail property or jail for the provision of more services for this population including probation or homeless services.
De-Escalation of Force
The county should move from "Objectively Reasonable" to the "Necessary and Proportional" standard. The objectively reasonable standard allows for unnecessary force. For example, Dethorne Graham went to the store to get food to stave off a diabetic attack. However, police officers thought felt threatened by his medically-induced symptoms and assaulted him. While Graham didn't break any laws, his behavior—caused by his medical condition— was considered "objectively reasonable" to cause suspicion of danger.
In addition, the county should:
Establish a use of force continuum
Create a policy for an After Action Review (AAR) that outlines a clear and concrete policy for the release of information surrounding a use of force incident including, but not limited to: identities of victims and officers involved, body camera evidence, and an investigation timeline
Implement an Early Intervention system to review officers who are at risk for excessive force
Limit Use of Raids
I have personally witnessed the aftermath of drug raids on families that I'm very close to. I have seen homes completely ransacked by police where nothing was found. I've seen children come crying to me that their favorite toy was destroyed or clothes dumped all over the floor...It is extremely traumatizing to children to be woken up at five in the morning to a bang… and then having to go to school that same day.
Community Member Testimony at Police Reform Committee, 11/5/2020
In a 2014 report, the American Civil Liberties Union (ACLU) found that the majority of SWAT deployments (79 percent) were to execute search warrants for low-level drug investigations, and deployments for hostage or barricade situations occurred in only a small number of incidents. The study also found that, based on recorded data, the use of paramilitary weapons and tactics primarily impacted people of color. When used in drug searches, the primary targets of paramilitary tactics were people of color, whereas when used in hostage or barricade scenarios, the primary targets were white.
Parental incarceration is significantly related to a number of outcomes in early adulthood, including educational attainment, physical and mental health, and receipt of public assistance. Parental incarceration can increase feelings of isolation and alienation that keep children, caregivers, and parents from seeking services. The International Association of Chiefs of Police recommends Safeguarding Children of Arrested Parents Policy.
The county should
Ban or limit no-knock warrants;
Reduce frequency of SWAT-style raids;
Reduce the use and acquisition of military equipment;
Create an effective Body Camera Policy
Read my separate article about this important, ongoing issue.
Statistics and Public Access to Data
We believe actual data is critical for creating an innovative plan that will make a significant difference in Columbia County...Where there are differences and inequalities, then the 'why' needs to be discussed and can become the basis for reform and innovation.
Concerned Residents' Letter, 12/12/2020
Statistics are an important measure of policing and improving police-community relations. As affirmed by the 21st Century Policing Task Force, robust data-collection and reporting policies are essential for tracking police-community interactions, and they can be a critical tool for shedding light on discriminatory policing and its impact on communities of color. The county should use statistics to better understand local policing and inform decision-making. Information is currently available on the DCJS website, however, that information does not include actionable local statistics to make and measure improvements.
The county should take the following steps:
Notify the Board of Supervisors Public Safety Committee when a new batch of statistics has been submitted and is available to view
Create a data dashboard that includes sharing already-collected demographic data
Share data with the public on a quarterly basis
Research and evaluate the top software solutions that could assist with reporting transparency
Complaints Regarding Police Conduct
I learned in the last meeting that there is no independent civilian board to review complaints against police, so it appears Columbia County police are policing themselves. Police are servants of the community and if there are complaints against police they should be made public. I believe we should consider establishing a civilian complaint review board.
Community Member Testimony at Police Reform Committee, 11/5/2020
Columbia County created a community review board in 2021. In addition, the county should take the following steps:
Add ways for the public to file complaints and comments at other County buildings
Add ways for the public to file complaints and comments via an online form
Add ways for the public to file complaints and comments anonymously
Collaborate with all law enforcement agencies to create a unified complaint process.
Together, we will make this a place where our rights are respected and where every one of us can live full and healthy lives, no exceptions. How do you want to improve public safety? Contact me.