Racism and Policing
Reform policing and fund programs
September 10, 2020
The murder of George Floyd, Ahmaud Arbery, Breonna Taylor is unacceptable. But sadly, these tragedies are part of a larger pattern.
A few years ago, the nation was mourning the loss of Freddie Gray, Philando Castile, Tamir Rice, Eric Garner, and Sandra Bland. 20 years ago it was Amadou Diallo. 30 years ago it was the murder of the MOVE family. MOVE was organizing for Black liberation and the police dropped a bomb on their house. 50 years ago, it was the murder of Fred Hampton, he was also organizing for Black liberation, and like Breonna Taylor, police killed him in his bed. There are thousands of lesser-known people who have been murdered, victims of a racist system.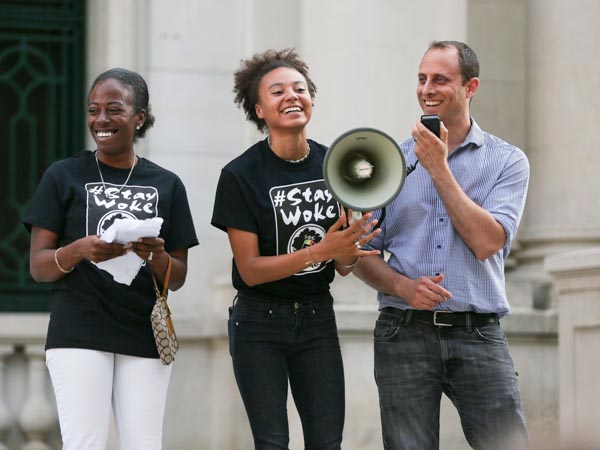 Now, we have the President encouraging police to assault people when arresting them. He tells women of color members of congress to "go back to where they came from," and downplays white supremacist murderers with allusions of "very fine people." Some politicians and supporters agree with that mindset or make excuses for it. But we also know that our problems go much deeper than the current president.
Racism is a Local Problem
We can't ignore the facts or the experiences of our residents.
Drug Laws
In Columbia County, Black people are almost four times as likely to be arrested, almost six times as likely to be arrested for a felony, and over 10 times as likely to be sentenced to prison. (See New York State Division of Criminal Justice Services report.)
Before marijuana was decriminalized in New York State, Columbia County had one of the highest possession arrest rates. The county opposed statewide marijuana legalization. And the county partners with the DEA on an attempted campaign to "eradicate marijuana." I've voted against the eradication campaign three times.
Immigrant Rights
There are county leaders that opposed immigrant access to driver's licenses. In contrast, I was proud to work with the City of Hudson as the first municipality in the state to support the Green Light Campaign. The law improves public safety by allowing everyone an opportunity to take the driver's test and purchase insurance. It also enables people to stay within the law and not get arrested for driving without a license. Once the law passed statewide, Columbia County partnered with the Columbia County Sanctuary Movement on a successful implementation.
Bail Reform
In 2020, New York State instituted another important change: bail reform. People can't be held in jail without a trial based on how much money they have. But, the Board of Supervisors passed a resolution against bail reform.
The anti-bail reform resolution stated, "no group is more vulnerable than the victims of crime, and a just society demands that crime victims should be recognized as key participants within the criminal justice system and be treated with dignity, fairness, and respect." The emphasis on victims is misleading since punishing people based on their wealth doesn't support victims of crime. If we are truly committed to protecting victims, suspected perpetrators with access to wealth and power will be treated the same as those without power.
Meanwhile, victims of crime like Alima Bonsa and Harold Handy continue to seek justice—no person has been charged with committing a crime in either case. These survivors should be recognized as key participants within the criminal justice system and be treated with dignity, fairness, and respect.
Jail
Bail reform and alternatives to incarceration programs have led to a decrease in people incarcerated. This should lead to financial savings, however, our county jail remains overstaffed. The county has started decreasing staff but still has more to go.
The Columbia County Corrections Officer's Benevolent Association sued Columbia County over a reduction in hours and wages. However, the court ruled with Columbia County and against the Corrections Officer's Benevolent Association.
The county jail has an important partnership with Promise Neighborhood on a progressive family visit program.
Economics
Our problems are bigger than policing.
In Columbia County, Black residents have half the income of white residents. Over the past few years, we have seen an increase in the overall income of white residents however the poverty rates are increasing. There are more white residents and Black residents living in poverty. We need to do better to create economic opportunities, especially for people at the bottom.
Solutions
Here are some steps for Columbia County to improve public safety and racial justice.
The County is forming a police reform committee. This committee needs to be willing to question the status quo. The committee must include people of color and members who will bring new ideas and be receptive to new ideas.
The movement for racial justice must not rely on this insider committee to do the hard work. We must continue to organize and demand justice.
Columbia County should improve transparency regarding policies, data, and outcomes.
Reduce costs of policing and incarceration.
Support alternatives to incarceration. Support state and federal policies that support alternatives to incarceration while improving local implementation.
Move money from incarceration and enforcement to more effective programs. I've actively supported funding for mental health services, affordable housing, education, and public transportation.
Expand economic development, especially for Black and Brown businesses.
Better social services. Many people experience these services as degrading, dehumanizing bureaucracies that are too hard to navigate.
Evaluate hiring programs to ensure equity in hiring across local government.
Be open to solutions, to model successful programs from other areas, and to try new approaches.
Create an effective body camera policy.
How can we improve public safety? Contact me.